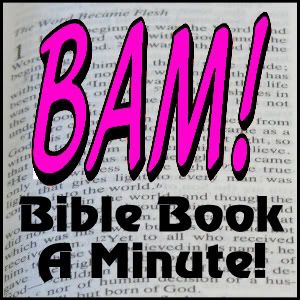 Old Testament
Book of
Haggai
Summarised in 1 Minute
Key Verses
Haggai 1:7-8 - This is what Yahweh of Armies says: "Consider your ways. 1:8 Go up to the mountain, bring wood, and build the house. I will take pleasure in it, and I will be glorified," says Yahweh.
Haggai 2:7-9 - The precious things of all nations will come, and I will fill this house with glory, says Yahweh of Armies. The silver is mine, and the gold is mine,' says Yahweh of Armies. 'The latter glory of this house will be greater than the former,' says Yahweh of Armies; 'and in this place will I give peace,' says Yahweh of Armies."
Summary
Haggai preached after the exile in Jerusalem in 520BC. Haggai exhorts them to complete the rebuilding of the temple, which was started 16 years hence. He calls on the builders to have a renewed courage, to life a holy life and to have faith in God who controls the future.

If you find these resources helpful to you, please do prayerfully consider making a donation. You can support via PayPal, the universal and most secure way to donate money online. You do not need to be a member of Paypal to use their facilities. Thank you
Click on the appropriate link to subscribe to this website
Share
|
Download