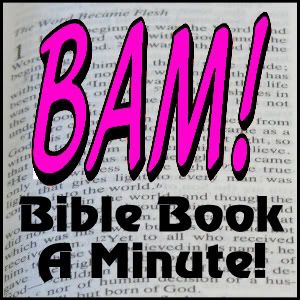 Old Testament
Book of
Habakkuk
Summarised in 1 Minute
Key Verses
Habakkuk 2:4 - Behold, his soul is puffed up. It is not upright in him, but the righteous will live by his faith.
Habakkuk 3:17-19 - For though the fig tree doesn't flourish, nor fruit be in the vines; the labor of the olive fails, the fields yield no food; the flocks are cut off from the fold, and there is no herd in the stalls: yet I will rejoice in Yahweh. I will be joyful in the God of my salvation! Yahweh, the Lord, is my strength. He makes my feet like deer's feet, and enables me to go in high places.
Summary
Habbakuk preached repentance to Judah n 697BC, but they refused to change. His message was that God's people should live by faith alone. Habakkuk does not always understand God's ways, but concluded by praising God's wisdom.

If you find these resources helpful to you, please do prayerfully consider making a donation. You can support via PayPal, the universal and most secure way to donate money online. You do not need to be a member of Paypal to use their facilities. Thank you
Click on the appropriate link to subscribe to this website
Share
|
Download