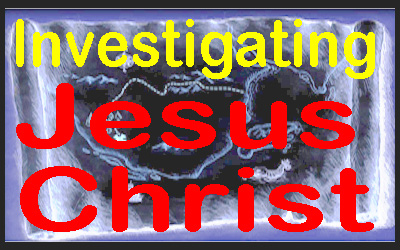 Investigating Jesus
Part 25

 We know Jesus spoke to and interacted with large crowds. The Sermon on the Mount (Matthew 5-7) and the feeding of large crowds (Matthew 14:13-21; Mark 6:30-44; Luke 9:10-17; John 6:1-15) are just two of examples. We also have records of his encounters with individuals and their reactions. People who we talk to about Jesus, often have three reactions: rejection (either in sorrow or anger); leave with more to think about it; and acceptance. We are going to look at two encounters that we find in the Gospels, what Jesus had to say to them and their subsequent reactions.

Rich young ruler

As Jesus started on his way; a man ran up to him and fell on his knees before him. "Good teacher," he asked, "what must I do to inherit eternal life?" "Why do you call me good?" Jesus answered. "No one is good—except God alone. You know the commandments: 'Do not murder, do not commit adultery, do not steal, do not give false testimony, do not defraud, honour your father and mother.'" "Teacher," he declared, "all these I have kept since I was a boy." Jesus looked at him and loved him. "One thing you lack," he said. "Go, sell everything you have and give to the poor, and you will have treasure in heaven. Then come, follow me." At this the man's face fell. He went away sad, because he had great wealth. Jesus looked around and said to his disciples, "How hard it is for the rich to enter the kingdom of God." (Mark 10:17-22).

This story is in all three synoptic gospels, Matthew, Mark and Luke. Luke describes him as a wealthy ruler (Luke 18:18-27). Matthew describes him as a young man (Matthew 19:16-26). In Mark's account, he is simply a man (Mark 10:17-22). Put altogether that makes him a rich young ruler. He runs up to Jesus and falls on his knees before Him. He wants eternal life, wants it now and so asks Jesus about it. When he calls Jesus a good teacher, Jesus responds "No one is good—except God alone."
Now Jesus could have been correcting the young man, but more likely Jesus was asking: "Do you know what you are saying and how close to the truth about me you are?" This young man had fully kept the commandments listed by Jesus (Mark 10:19).

However, when Jesus said to the young ruler, that to follow Him, he would have to give up all his wealth to have treasure in heaven and eternal life, the man left disconsolate. That was a step too far for the rich young ruler. He wanted his riches and eternal life but Jesus said he couldn't have both. He remains, as far as we know, the only person who left Jesus' presence sorrowful, and that due to putting his trust in his riches and wealth alone. Now riches are not necessarily wrong, but they do make trusting fully in God very difficult (Mark 10:23).
Nicodemus

Now there was a man of the Pharisees named Nicodemus, a member of the Jewish ruling council. He came to Jesus at night and said, "Rabbi, we know you are a teacher who has come from God. For no one could perform the miraculous signs you are doing if God were not with him." In reply Jesus declared, "I tell you the truth, no one can see the kingdom of God unless he is born again. (John 3:1-3)


Nicodemus wants to know more about Jesus and investigate Him personally, instead of merely following many the other Jewish leaders. What do we know about Nicodemus?
From other sources, we know he may well have been from a family of wealthy landowners

He protested Jesus' condemnation without a trial (John 7:50-52).

Took gifts to anoint Jesus' body (John 19:39-40).

He was a member of the Jewish ruling council, the Sanhedrin and a leading teacher and learned scholar of the Scriptures

Nicodemus was probably one of the many looking for a kingdom of God based around a political Messiah; hence him admitting that due to his miraculous signs, Jesus must have been from God. They wanted a Messiah who was a political leader and somebody who would lead Israel once again to be a shining light for the whole world to come to Jerusalem and worship the one true living God. However, Jesus corrects Nicodemus and says that it is not through a new Israel that God's kingdom will be seen, but by being "born again". Three times in this conversation, Jesus repeats about being "born again". Jesus seemed astonished that this noted Jewish teacher didn't already know what he was talking about, being as Nicodemus was a highly educated and learned teacher.


What does "born again" mean?
It is not a physical rebirth and nor is it merely a turning over a new leaf.

It is not baptism because Jesus has not instituted baptism yet.

It is the new covenant; which Nicodemus should have known about it (Jeremiah 31 and Ezekiel 36). It is being born with water and spirit – cleansed of sin and indwelt with the Holy Spirit

It is being born from above, which is looking to the one who has come down from heaven. For the phrase "born again" can also be translated "born from above".

Bing born again, involves looking to Jesus and trusting in Him, just as the ancient Israelites were saved by looking at the bronze snake (Numbers 21:8).

Being born again is on an individual basis just as physical birth is. Nobody knows the date and time of their own birth unless they are told by somebody.
Here we have two different reactions to Jesus: The rich young ruler who left full of sorrow; the Jewish leader who left with more to think about regarding this Jesus. In each encounter, Jesus is remarkably comfortable with both people.
We see there is no barrier which Jesus is afraid to cross to meet people and show them the love of God. Jesus loved the rich young ruler (Mark 10:21). The love of Jesus Christ surrounded those he met, just as his love surrounds all people today. His message of salvation, through Him alone, is for everybody of all time.
~
Click or tap on the appropriate link below to subscribe, share or download our iPhone App!