Episodes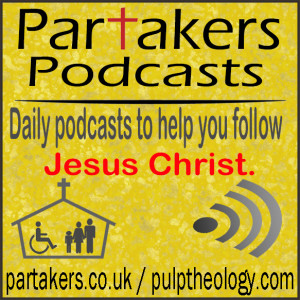 Saturday Dec 24, 2022
Saturday Dec 24, 2022
24. Mary's God – Partakers Christmas Bible Thought
In our last podcast, we looked at Mary's response the visit of her relative Elizabeth, and discovered that in response to Elizabeth's exclamations, Mary spontaneously bursts into song! A song seemingly of renewal, revolution and reformation. Today we look more at the God of Mary whom she worships and what that has to do with us today. Mary knows that her God is called Almighty. We know it as well through our study of the Bible and in our own lives, I am sure. But how is God, "Almighty", and just as importantly, why? God being Almighty, can be summed up in 3 words: Omnipotent, Omnipresent and Omniscient. Come and listen to find out more about God and Mary's relationship with Him, in this part in the Christmas story!

46 And Mary said:
"My soul glorifies the Lord
47 and my spirit rejoices in God my Saviour,
48 for he has been mindful of the humble state of his servant.
From now on all generations will call me blessed,
49 for the Mighty One has done great things for me—
holy is his name.
50 His mercy extends to those who fear him,
from generation to generation.
51 He has performed mighty deeds with his arm;
he has scattered those who are proud in their inmost thoughts.
52 He has brought down rulers from their thrones
but has lifted up the humble.
53 He has filled the hungry with good things
but has sent the rich away empty.
54 He has helped his servant Israel,
remembering to be merciful
55 to Abraham and his descendants forever,
just as he promised our ancestors."
56 Mary stayed with Elizabeth for about three months and then returned home.

Click on the appropriate link below to subscribe or share

Sunday Dec 04, 2022
Sunday Dec 04, 2022

A Christmas Prayer Service
Today as part of our Christmas series, we have a prayer service where we offer to our God, prayers of the Church from history. Come, Church! Let's pray together!

1. Nativity Prayer of St. Bernard of Clairvaux
2. Nativity Prayer from the Orthodox Liturgy Feast of the Nativity
3. An advent prayer dating from the 10th century...
4. Christ, Redeemer of All
5. A Nativity Prayer of St. Augustine
6. The Lord's Prayer
Our Father in heaven,
hallowed be your name,
your kingdom come,
your will be done,
on earth as in heaven.
Give us today our daily bread.
Forgive us our sins
as we forgive those who sin against us.
Lead us not into temptation
but deliver us from evil.
For the kingdom, the power,
and the glory are yours
now and for ever.
Amen.

That is all for today! Come back tomorrow for more in our Christmas series!



Click or tap on the appropriate link below to subscribe, share or download our iPhone App!


Friday Oct 14, 2022
Friday Oct 14, 2022
Partakers Prayers
We pray together and when Christians pray together, from different nations, different churches and different denominations - that reveals Church unity! Come! Let us pray together!
A prayer of Bonaventure
Lord Jesus,
as God's Spirit came
down and rested upon you,

may the same Spirit rest upon and be within us.
~ ~ ~ ~ ~
O Yahweh,
Grant us the gift of
understanding, by which your
precepts may enlighten our minds.
~ ~ ~ ~ ~
O Jehovah,
Grant us counsel,
by which we may follow in your
footsteps on the path of righteousness.
~ ~ ~ ~ ~
O Great God,
grant us courage,
by which we may ward

off the Enemy's attacks.
~ ~ ~ ~ ~
O Sovereign God,
grant us knowledge.
by which we can distinguish
good from evil.
~ ~ ~ ~ ~
O Merciful God,
grant us piety,
by which we may acquire
compassionate hearts.
~ ~ ~ ~ ~
O Holy God,
grant us fear, by which
we may draw back from evil
and submit to what is good.
~ ~ ~ ~ ~
O ineffable God
made known through Jesus,
grant us wisdom,
that we may taste fully the
life-giving sweetness of your love.
~ ~ ~ ~ ~
For we ask this O God our Father,
In the power of the Holy Spirit who lives within us
Through the Son who died and rose again!
Amen.
Based on a Prayer of Bonaventure 1221 –1274