Episodes
11 hours ago
11 hours ago

Psalm 86
86:1 Hear, Yahweh, and answer me,
for I am poor and needy.
86:2 Preserve my soul, for I am godly.
You, my God, save your servant who trusts in you.
86:3 Be merciful to me, Lord,
for I call to you all day long.
86:4 Bring joy to the soul of your servant,
for to you, Lord, do I lift up my soul.
86:5 For you, Lord, are good, and ready to forgive;
abundant in loving kindness to all those who call on you.
86:6 Hear, Yahweh, my prayer.
Listen to the voice of my petitions.
86:7 In the day of my trouble I will call on you,
for you will answer me.
86:8 There is no one like you among the gods, Lord,
nor any deeds like your deeds.
86:9 All nations you have made will come and worship before you, Lord.
They shall glorify your name.
86:10 For you are great, and do wondrous things.
You are God alone.
86:11 Teach me your way, Yahweh.
I will walk in your truth.Make my heart undivided to fear your name.
86:12 I will praise you, Lord my God, with my whole heart.
I will glorify your name forevermore.
86:13 For your loving kindness is great toward me.
You have delivered my soul from the lowest Sheol.
86:14 God, the proud have risen up against me.
A company of violent men have sought after my soul,
and they don't hold regard for you before them.
86:15 But you, Lord, are a merciful and gracious God,
slow to anger, and abundant in loving kindness and truth.
86:16 Turn to me, and have mercy on me!
Give your strength to your servant.
Save the son of your handmaid.
86:17 Show me a sign of your goodness,
that those who hate me may see it,
and be shamed,because you,
Yahweh, have helped me,
and comforted me.
All Psalms are available here! Click or tap here to visit that page


Click or tap on the appropriate link below to subscribe, share or download our iPhone App!



5 days ago
5 days ago

Psalm 65
For the Chief Musician. A Psalm by David. A song.
65:1 Praise waits for you, God, in Zion. To you shall vows be performed.
65:2 You who hear prayer, to you all men will come.
65:3 Sins overwhelmed me, but you atoned for our transgressions.
65:4 Blessed is one whom you choose, and cause to come near, that he may live in your courts. We will be filled with the goodness of your house, your holy temple.
65:5 By awesome deeds of righteousness, you answer us, God of our salvation. You who are the hope of all the ends of the earth, of those who are far away on the sea;
65:6 Who by his power forms the mountains, having armed yourself with strength;
65:7 who stills the roaring of the seas, the roaring of their waves, and the turmoil of the nations.
65:8 They also who dwell in faraway places are afraid at your wonders. You call the morning's dawn and the evening with songs of joy.
65:9 You visit the earth, and water it. You greatly enrich it. The river of God is full of water. You provide them grain, for so you have ordained it.
65:10 You drench its furrows. You level its ridges. You soften it with showers. You bless it with a crop.
65:11 You crown the year with your bounty. Your carts overflow with abundance.
65:12 The wilderness grasslands overflow. The hills are clothed with gladness.
65:13 The pastures are covered with flocks. The valleys also are clothed with grain. They shout for joy! They also sing.
~


Click or tap on the appropriate link below to subscribe, share or download our iPhone App!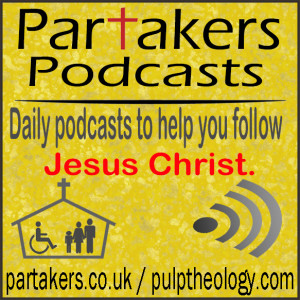 6 days ago
6 days ago

Psalm 8
1 O LORD, our Lord, how majestic is your name in all the earth! You have set your glory above the heavens.
2 From the lips of children and infants you have ordained praise because of your enemies, to silence the foe and the avenger.
3 When I consider your heavens, the work of your fingers, the moon and the stars, which you have set in place,
4 what is man that you are mindful of him, the son of man that you care for him?
5 You made him a little lower than the heavenly beings and crowned him with glory and honor.
6 You made him ruler over the works of your hands; you put everything under his feet:
7 all flocks and herds, and the beasts of the field,
8 the birds of the air, and the fish of the sea, all that swim the paths of the seas.
9 O LORD, our Lord, how majestic is your name in all the earth!