Episodes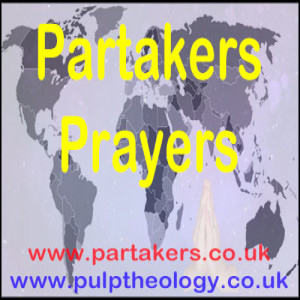 4 days ago
4 days ago
Partakers Prayers
Today on Partakers we are praying together a prayer of Martin Luther! As you listen to these words, make them your own! Come and pray!
Behold, Lord,
I am an empty vessel that needs to be filled.
My Lord, fill it.
I am weak in the faith; strengthen me.
I am cold in love; warm me and make me fervent,
that my love may go out to my neighbour.
I do not have a strong and firm faith;
at times, I doubt and am unable to trust You altogether.

O Lord, help me.
Strengthen my faith and trust in you.
In You I have sealed the treasure of all I have.
I am poor; you are rich and came to be merciful to the poor.
I am a sinner; you are upright.
With me, there is an abundance of sin;
in You is the fullness of righteousness.
Therefore, I will remain with you,
of whom I can receive, but to whom I may not give.
Amen
Click or tap on the appropriate link below to subscribe, share or download our iPhone App!

5 days ago
5 days ago
G'day! Today we are praying a series of prayers concerning the Ukraine Russian conflict and war. Молитви за Україну / Molytvy za Ukrayinu
Come! Let's pray together and say your "Amen!" or "May it be so, Lord!"
7 days ago
7 days ago

Psalm 137
1 By the rivers of Babylon, there we sat down.
Yes, we wept, when we remembered Zion.
2 On the willows in the midst of it,
We hung up our harps.
3 For there, those who led us captive asked us for songs.
Those who tormented us demanded songs of joy:
"Sing us one of the songs of Zion!"
4 How can we sing Yahweh's song in a foreign land?
5 If I forget you, Jerusalem,
Let my right hand forget its skill.
6 Let my tongue stick to the roof of my mouth,
If I don't remember you;
If I don't prefer Jerusalem above my chief joy.
7 Remember, Yahweh, against the children of Edom,
The day of Jerusalem; Who said,
"Raze it! Raze it even to its foundation!"
8 Daughter of Babylon,
doomed to destruction,
He will be happy who rewards you,
As you have served us.
9 Happy shall he be,
Who takes and dashes your little ones against the rock.


Click or tap on the appropriate link below to subscribe, share or download our iPhone App!