Episodes
11 hours ago
11 hours ago

Psalm 86
86:1 Hear, Yahweh, and answer me,
for I am poor and needy.
86:2 Preserve my soul, for I am godly.
You, my God, save your servant who trusts in you.
86:3 Be merciful to me, Lord,
for I call to you all day long.
86:4 Bring joy to the soul of your servant,
for to you, Lord, do I lift up my soul.
86:5 For you, Lord, are good, and ready to forgive;
abundant in loving kindness to all those who call on you.
86:6 Hear, Yahweh, my prayer.
Listen to the voice of my petitions.
86:7 In the day of my trouble I will call on you,
for you will answer me.
86:8 There is no one like you among the gods, Lord,
nor any deeds like your deeds.
86:9 All nations you have made will come and worship before you, Lord.
They shall glorify your name.
86:10 For you are great, and do wondrous things.
You are God alone.
86:11 Teach me your way, Yahweh.
I will walk in your truth.Make my heart undivided to fear your name.
86:12 I will praise you, Lord my God, with my whole heart.
I will glorify your name forevermore.
86:13 For your loving kindness is great toward me.
You have delivered my soul from the lowest Sheol.
86:14 God, the proud have risen up against me.
A company of violent men have sought after my soul,
and they don't hold regard for you before them.
86:15 But you, Lord, are a merciful and gracious God,
slow to anger, and abundant in loving kindness and truth.
86:16 Turn to me, and have mercy on me!
Give your strength to your servant.
Save the son of your handmaid.
86:17 Show me a sign of your goodness,
that those who hate me may see it,
and be shamed,because you,
Yahweh, have helped me,
and comforted me.
All Psalms are available here! Click or tap here to visit that page


Click or tap on the appropriate link below to subscribe, share or download our iPhone App!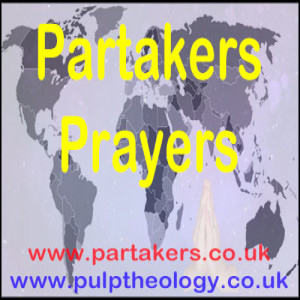 4 days ago
4 days ago
Partakers Prayers
Today on Partakers we are praying together a prayer of Martin Luther! As you listen to these words, make them your own! Come and pray!
Behold, Lord,
I am an empty vessel that needs to be filled.
My Lord, fill it.
I am weak in the faith; strengthen me.
I am cold in love; warm me and make me fervent,
that my love may go out to my neighbour.
I do not have a strong and firm faith;
at times, I doubt and am unable to trust You altogether.

O Lord, help me.
Strengthen my faith and trust in you.
In You I have sealed the treasure of all I have.
I am poor; you are rich and came to be merciful to the poor.
I am a sinner; you are upright.
With me, there is an abundance of sin;
in You is the fullness of righteousness.
Therefore, I will remain with you,
of whom I can receive, but to whom I may not give.
Amen
Click or tap on the appropriate link below to subscribe, share or download our iPhone App!

5 days ago
5 days ago
G'day! Today we are praying a series of prayers concerning the Ukraine Russian conflict and war. Молитви за Україну / Molytvy za Ukrayinu
Come! Let's pray together and say your "Amen!" or "May it be so, Lord!"