Episodes
11 hours ago
11 hours ago

Psalm 86
86:1 Hear, Yahweh, and answer me,
for I am poor and needy.
86:2 Preserve my soul, for I am godly.
You, my God, save your servant who trusts in you.
86:3 Be merciful to me, Lord,
for I call to you all day long.
86:4 Bring joy to the soul of your servant,
for to you, Lord, do I lift up my soul.
86:5 For you, Lord, are good, and ready to forgive;
abundant in loving kindness to all those who call on you.
86:6 Hear, Yahweh, my prayer.
Listen to the voice of my petitions.
86:7 In the day of my trouble I will call on you,
for you will answer me.
86:8 There is no one like you among the gods, Lord,
nor any deeds like your deeds.
86:9 All nations you have made will come and worship before you, Lord.
They shall glorify your name.
86:10 For you are great, and do wondrous things.
You are God alone.
86:11 Teach me your way, Yahweh.
I will walk in your truth.Make my heart undivided to fear your name.
86:12 I will praise you, Lord my God, with my whole heart.
I will glorify your name forevermore.
86:13 For your loving kindness is great toward me.
You have delivered my soul from the lowest Sheol.
86:14 God, the proud have risen up against me.
A company of violent men have sought after my soul,
and they don't hold regard for you before them.
86:15 But you, Lord, are a merciful and gracious God,
slow to anger, and abundant in loving kindness and truth.
86:16 Turn to me, and have mercy on me!
Give your strength to your servant.
Save the son of your handmaid.
86:17 Show me a sign of your goodness,
that those who hate me may see it,
and be shamed,because you,
Yahweh, have helped me,
and comforted me.
All Psalms are available here! Click or tap here to visit that page


Click or tap on the appropriate link below to subscribe, share or download our iPhone App!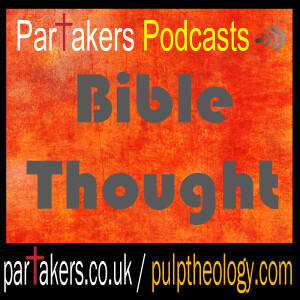 3 days ago
3 days ago
The False Witness

The book of Proverbs is a collection of writings, mainly by King Solomon, who was endowed by God with the extraordinary gift of wisdom. These writings are wisdom which reveals how a person can live a godly and God pleasing life. It provides God's people with a way to deal successfully with the practical affairs of everyday life, living God's way, as they listen to Him.
We will look at the topic from Proverbs about being a witness. This theme runs throughout the Bible, Old Testament and New Testament. We can be a true witness or a false witness. Let's start by looking at being a false witness.
The false witness is part of the very first sins committed by humanity. "Don't be a false witness" is indeed one of the very 10 commandments that were given by God to Moses (Exodus 20).
In regard to being a false witness, in a simple desert community as ancient Israel were, nearly all such crimes were seen as capital offences. If for somebody was to be a successful "false witness", that person would be seen as something of a murderer.
Here is what the great reformer Martin Luther said concerning it:
"the commandment against false witness is to prohibit the public judgment and reproof of the neighbour. One can indeed see and hear the neighbour sin, but one has no command to report it to others. If one judges and passes sentence, one falls into a sin which is greater than his (except for judges, parents, and preachers)."

Some tough words there as we start out, aren't they? The other great reformer, John Calvin, taught that this commandment of not being a false witness, emphasizes that the Christian is to:
"assert only the truth with pure motives for the maintenance of our neighbour's good name and estate."

Let us continue by looking within the book of Proverbs at "false witness". First of all, what is a false witness?
16 There are six things the LORD hates, seven that are detestable to him:
17 haughty eyes, a lying tongue, hands that shed innocent blood,
18 a heart that devises wicked schemes, feet that are quick to rush into evil,
19 a false witness who pours out lies and a person who stirs up conflict in the community. (Proverbs 6:16-19)
Listen or download the mp3 to find out more about being a witness!
You can now purchase books written by us! Please do click here to visit our Amazon site!

Click on the appropriate link below to subscribe, share or download our iPhone App!



<
5 days ago
5 days ago

Psalm 65
For the Chief Musician. A Psalm by David. A song.
65:1 Praise waits for you, God, in Zion. To you shall vows be performed.
65:2 You who hear prayer, to you all men will come.
65:3 Sins overwhelmed me, but you atoned for our transgressions.
65:4 Blessed is one whom you choose, and cause to come near, that he may live in your courts. We will be filled with the goodness of your house, your holy temple.
65:5 By awesome deeds of righteousness, you answer us, God of our salvation. You who are the hope of all the ends of the earth, of those who are far away on the sea;
65:6 Who by his power forms the mountains, having armed yourself with strength;
65:7 who stills the roaring of the seas, the roaring of their waves, and the turmoil of the nations.
65:8 They also who dwell in faraway places are afraid at your wonders. You call the morning's dawn and the evening with songs of joy.
65:9 You visit the earth, and water it. You greatly enrich it. The river of God is full of water. You provide them grain, for so you have ordained it.
65:10 You drench its furrows. You level its ridges. You soften it with showers. You bless it with a crop.
65:11 You crown the year with your bounty. Your carts overflow with abundance.
65:12 The wilderness grasslands overflow. The hills are clothed with gladness.
65:13 The pastures are covered with flocks. The valleys also are clothed with grain. They shout for joy! They also sing.
~


Click or tap on the appropriate link below to subscribe, share or download our iPhone App!