Episodes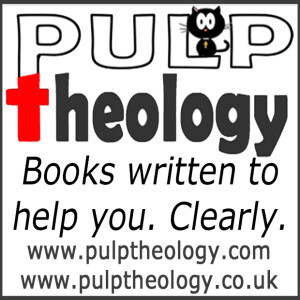 Saturday Jan 14, 2023
Saturday Jan 14, 2023
PulpTheology Book
Glimpses Into Leviticus
The Partakers book, written by Dave Roberts, we are looking at this week is Glimpses Into Leviticus: a book of Joy. (part of the "Glimpses Into" series)

Leviticus is perhaps the most maligned, misunderstood and under-read book of the Bible today.
Andrew Bonar once said: "There is no book that contains more of the very words of God than Leviticus. It is God that is the direct speaker in almost every page; his gracious words are recorded in the form wherein they were uttered."
How are we to read this amazing book? Leviticus does have important things to tell us about God, sin, obedience and holiness. Perhaps most importantly it tells of God wanting to live with His people. Some of the words and phrases we commonly use in the English language, come straight from the book of Leviticus. Come! Let us glimpse into this marvellous book of the Bible together - Leviticus the book of joy! Why do I call it a book of joy? One reason is that it reveals a God who wants to live with His people. For other reasons, you will have to look inside and read it to discover why!
Here is what 1 Amazon reviewer said: "5 stars! A theological view of Leviticus as opposed to c]the view it is an archaic 'laundry list'. Whether you agree with some of the conclusions or not, it will help you want to delve deeper, think more deeply about this often avoided book."
Available in Hardback, paperback and Kindle!
~
You can purchase this book at Amazon USA on this link:
You can purchase this book at Amazon UK on this link:
Wednesday Oct 04, 2017
Wednesday Oct 04, 2017

Why I am a Christian?
1 John 5:9-12 - "We accept man's testimony, but God's testimony is greater because it is the testimony of God, which he has given about his Son. Anyone who believes in the Son of God has this testimony in his heart. Anyone who does not believe God has made him out to be a liar, because he has not believed the testimony God has given about his Son. And this is the testimony: God has given us eternal life, and this life is in his Son. He who has the Son has life; he who does not have the Son of God does not have life."
Why Is It So?
A testimony is an assertion offering firsthand authentication of a fact. For the Christian Disciple, classically it is generally expressed as how they became a Christian Disciple. But I think it is more than just how, and should expressly include why you are a Christian Disciple. I wonder what is your testimony about how you became a Christian Disciple? When was the last time you thanked our God for your testimony? Have you even thought about your testimony of how you became a Christian Disciple? I am sure you have all heard kids in the supermarket yelling out "Why?" to their parents. We all have, I am sure, questions we want to know the answer to. Why? The question I am often asked is "You are a Christian. Why is it so?" My father, was and remained throughout his life a convinced agnostic and in the few conversations we had about religion and Christianity, he could never understand why it was, that I could not just admit that I would never know if God existed or not, far less a God who was personally interested in me. My reply as ever, was that the very question "Why is it so?" needed to be answered, in order for me to be satisfied.
Why I am a Christian?
Now I could say that at the age of 12, we moved to a town on the coast of Australia, and was invited along to a local youth group and several weeks later, gave my life to Christ and became a Christian. Of course that is partly true. I can't even claim to be a Christian because I was raised in a Christian country. Australia was and is probably the second most secular country on this planet. Sure Australia has its moral base grounded in historic Christianity, but for the latter part of its history, Australia has been thoroughly secular and non-religious. Even if I had been raised in a country such as England, with Christian parents, that would also, only be partly true and I could have rejected Christianity as many people do. The reason that I am a Christian is not because I chased God, but rather He chased me. Unknown to me at the time, God was chasing me and following my every path with the urgency of a lover after the beloved, just as described in the Song of Songs 2:2-14.
God had been pursuing me
This piece of poetic Scripture speaks about the love that God has for his people, and the energy He puts in to calling his people to Himself. He is always reaching out, for all to return to His arms. As for me, it wasn't until I was a 12 year old that I heard that I needed to accept Jesus as my Lord and Saviour. Before that I didn't know I had to do anything with this Jesus. Jesus was only a curse word for me at the time. That or was just someone or something that the RE teachers bored me with at school.

We are primarily Christians, not because we come to church services or just happened to have been born in a supposedly Christian country. We are primarily Christians, because God first chased and harried us into His arms. We are Christians, if you are one, because God first loved you. And as a tremendous lover, He beckons and calls people all the time to respond to His call, and back to Him.

How does He chase us with His love? He chases each person differently, just as each Christian testimony is different. Take for instance the Apostle Paul in Acts 8 & 9. God chased him through Paul's mind and his religious upbringing and education. Paul had known about God from his childhood. Paul was a righteous Pharisee who saw persecuting these 'Christians' as his religious duty, so that he may somehow find favour with God. As Paul was gloating over the death of the martyr Stephen, God was pursuing Him, probably raising doubts in Paul's mind as to why Stephen would say at the point of death "Lord Jesus, receive my spirit and forgive them for what they do" (Acts 7:54-60). Surely doubts must have been raised in Paul's mind as he approved of this death (Acts 8v1). Paul was also wrestling with his conscience. Externally he was a righteous man, a Pharisee of Pharisees. Yet when he internally examined himself and his heart, he found himself failing regarding covetousness, which is the last of the Ten Commandments. Then finally, Jesus himself makes a sudden and dramatic appearance before Paul and confronts him directly, "Why are you kicking against me? Why are you rejecting my advances?" (Acts 9) Paul's conversion to Christianity is often described as being sudden. But the only thing sudden about his conversion was this climatic appearance of Jesus.

Just as that was true of Paul, it is true of me, just as it is true of all those who profess to call themselves a Christian Disciple. I am a Christian Disciple not because of anything I have done, but rather because He first chased me, and because He first loved me. Jesus himself said "I came to seek and to save the lost" (Luke 19:10).

If you are a Christian today, it is not because of anything you have done. It is because of the events at Christmas and Easter that you are a Christian, when God entered this world as a human baby and took all the necessary steps so that all people could have the choice to be His people or not. In my more smug moments I used to congratulate myself for being a Christian. How proud I was that I, was a Christian and that God was a jolly lucky God that I had decided to follow Him. It was during one of my less self-deluded moments, that I examined myself and I found God pricking my conscience and correcting me, and I read the New Testament "For the Son of Man came, not to be served but to give His life as a ransom for many" (Mark10:45).
~


Click or tap on the appropriate link below to subscribe, share or download our iPhone App!



Saturday Oct 18, 2014
Saturday Oct 18, 2014
I AM 4
G'day and welcome to Partake! We are now on day 18 of our series "Glimpses", looking at the story of the Bible in 30 days, from the time of creation through to the time of the fullness of redemption! Jesus' teaching continues to be met with amazement yet also some misunderstanding and bewilderment! Today we complete looking at one particularly aspect of his teaching - himself - and the last two 'I AM' statements.
I AM the Way Truth and Life
Reading from John 14v1-9
"Don't let your hearts be troubled. Trust in God, and trust also in me. There is more than enough room in my Father's home. If this were not so, would I have told you that I am going to prepare a place for you? When everything is ready, I will come and get you, so that you will always be with me where I am. And you know the way to where I am going."
"No, we don't know, Lord," Thomas said. "We have no idea where you are going, so how can we know the way?"
Jesus told him, "I am the way, the truth, and the life. No one can come to the Father except through me. If you had really known me, you would know who my Father is. From now on, you do know him and have seen him!"
Philip said, "Lord, show us the Father, and we will be satisfied."
Jesus replied, "Have I been with you all this time, Philip, and yet you still don't know who I am? Anyone who has seen me has seen the Father! So why are you asking me to show him to you?
Question answered with a  WOW!
When Jesus issued this statement, "I AM the way, the truth and the life", the stress of the sentence automatically falls on the words "the way". This is because Jesus is answering a question posed by Thomas (John 14v5). Jesus claims to be the only way to God the Father, because Jesus is one with the Father - He is God!. Not only is he the way, but he is also the truth and the life. All of God's truth is embodied in Jesus Christ who, as both fully God and fully human, was also the ever-living God. Nobody can claim access to God the Father, except through Jesus himself. Other religions and other so-called paths to God may contain some element of truth about God, but there is no other way to God but through Jesus Christ. Jesus Christ embodies ALL truth and as we saw recently, Jesus is also the life as part of his I AM claims. He is the means of access to God for all people of all cultures and all backgrounds. Jesus welcomes all, so that in his singular exclusive claims there is an inclusive embrace of all. As Jesus goes on to say in John 14v7, because we know him we also know God the Father. Amazing things to say! Jesus is the truth because He is totally trustworthy! Jesus is the life because He is life Himself! Jesus is the way because He is the way we enter heaven and can have eternal life! We will see how that can be very soon in this series and why it can only be that way! Jesus also gives a glimpse or a hint of the future - can you spot them out yet? If you cant, we will have come to them by the end of this series and you will be amazed at the continuity of the Bible!
I AM the True Vine
And the last "I AM" can be found in John 15v1-14
"I am the true grapevine, and my Father is the gardener. He cuts off every branch of mine that doesn't produce fruit, and he prunes the branches that do bear fruit so they will produce even more. You have already been pruned and purified by the message I have given you. Remain in me, and I will remain in you. For a branch cannot produce fruit if it is severed from the vine, and you cannot be fruitful unless you remain in me.
"Yes, I am the vine; you are the branches. Those who remain in me, and I in them, will produce much fruit. For apart from me you can do nothing. Anyone who does not remain in me is thrown away like a useless branch and withers. Such branches are gathered into a pile to be burned. But if you remain in me and my words remain in you, you may ask for anything you want, and it will be granted! When you produce much fruit, you are my true disciples. This brings great glory to my Father. "I have loved you even as the Father has loved me. Remain in my love. When you obey my commandments, you remain in my love, just as I obey my Father's commandments and remain in his love. I have told you these things so that you will be filled with my joy. Yes, your joy will overflow! This is my commandment: Love each other in the same way I have loved you. There is no greater love than to lay down one's life for one's friends. You are my friends if you do what I command.
We are One!
We have already seen that Jesus is the bread of life, the light of the world, the gate and the shepherd - all the things the nation of Israel was to be but failed to do so. Israel was to be God's light, way and shepherd to the nations - but failed to be so. The nation of Israel was also to be a vine or vineyard (Isaiah 5v1-7, Ezekiel 15v1-6). Israel as a vine had produced nothing even though God had taken her, made her a nation and given her the land as a gift and every possible benefit in which to grow and glorify God Himself as a reward. But the vineyard of Israel, had become a corrupt and barren vine and needed to be pruned back. Instead of justice, it had produced oppression and instead of living right before God it has produced sin and distress.
Real Vine vs Symbolic Vine
Juxtaposed against Israel's failure to be a vine, Jesus states that he is the true vine. Jesus was the reality, whereas Israel was merely the symbol. As the purpose of a vine is to produce fruit, the focal point is on what it takes to produce fruit (John 15v2). As part of the ultimate mission of Jesus to glorify God the Father (John 12v28, John 17v4), Jesus is the Vine. How did Jesus seek to glorify God? By loving God and loving others unconditionally and sacrificially! Just as Jesus embodies all truth, Jesus also embodies all love! Perfect love is Jesus! Sure there maybe semblances of God's love in other religions, but it is only in Jesus that the fullness of God's love dwells! Jesus as the true vine indicates that people were to have a relationship with God through him alone! This relationship involves loving as Jesus did - of God and to others - without condition and sacrificially. As Jesus is the vine, people would be sustained spiritually through him and he would be totally reliable! Amazing concepts if you think about it!  Jesus is giving them glimpses of what is to come and as you will see as we progress through this series.
Summarising the Seven "I AM"s
So there are the seven "I AM" statements. As well as equating himself with God as the "I AM", Jesus is also promoting his exclusivity as the only Saviour. He does not say I am a true vine; a way, a truth and a life. Nor does he say I am a resurrection and a life. He does not say I am a door to life, just as he does not say I am a shepherd, a light or a bread of life. No - Jesus is the only way, the only truth and the only life. Jesus is the one great shepherd and the only door to life. Jesus is the only light of the world and the only true bread of life. Jesus Christ is unique in being the "I AM". Tomorrow we look at how differnt people encountered this "I AM" with some different reactions. Thank you.

If you have found this resource helpful to you, please do prayerfully consider making a donation. Thank you
Click on the appropriate link to subscribe to this website