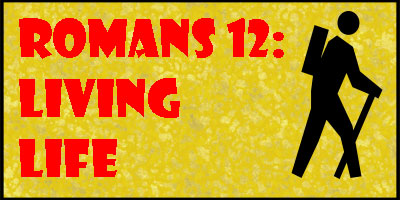 Romans 12: Living Life
Study 30: Do good!

v21 Don't let evil conquer you, but conquer evil by doing good.
I am sure you are aware that evil is all around us in this world. It is easy for us to become unenthusiastic and downcast in the face of the stress, pain and atrocity of evil. What is our response to be, says Paul? We are to overcome evil with good. We are to overcome evil by living such good lives of love of God and others, that evil is vanquished.
Evil wants to snatch away your inner joy and dependence upon God. We can overcome and conquer evil by submitting all to God - remembering that our love for God must always be stronger than any other love. That is good overcoming evil!
It is why in what we call the Lord's Prayer, we pray "Deliver us from evil!" We have three enemies – satan, the world and our old nature. All three evils died a death when Jesus, the Son of God, died on the cross and rose again to new life three days later. They just refuse to accept it! Light always overcomes darkness, good always overcomes evil.
When we are tempted to sin, we are to resist. That is one way you conquer evil – by refusing to bow to it's seductive requests. When our enemies do wrong against us, we are to forgive them. Just as God forgives us. That is good conquering evil. That is light overcoming darkness! Remember that God who lives within you, is greater than anything that would tempt you away from Him. Let His light dispel the darkness and evil which threatens to over come you. Resist in the power of the Holy Spirit and overcome evil with good.
Go! Live such a good life, that nobody can accuse you. Go – let your light shine in darkness! Overcome your enemies with love! Overcome evil with good.
Throughout this chapter Paul has chronicle living a life worthy of loving God. The Christian life is to be active and dynamic – reflecting a God who is also active and dynamic in this world! How so? Because He has people like you and I who are living lives worthy of being called His children! WOW!
Click on the appropriate link below to subscribe, share or download our iPhone App!