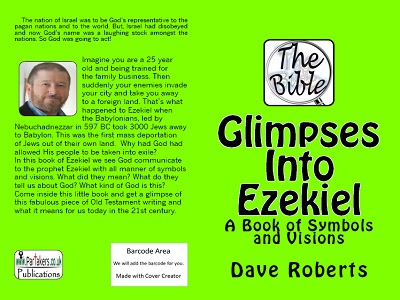 PulpTheology Book
Glimpses Into Ezekiel
The book we are exploring this week, is "Glimpses Into Ezekiel"
The nation of Israel was to be God's representative to the pagan nations and to the world. But, the nation of Israel had disobeyed God and now God's name was a laughing stock amongst those nations. So now, God was going to act!
Imagine you are a 25 year old and being trained for the family business. Then one day, suddenly your enemies invade your city and take you away to a foreign land. That is what happened to Ezekiel, when the Babylonians, led by Nebuchadnezzar in 597BC, took 3000 Jews away to Babylon. This was the first mass deportation of Jews outside of their land. Why had God allowed this to happen, for His people to be taken in exile?
In this book of Ezekiel, we see God communicate to the nation of Israel, through the prophet Ezekiel, using all manner of symbols and visions. What did they mean? What do they tell us about God? What kind of God is this?
Come inside this little book and get just a glimpse of this fascinating piece of Old Testament writing and discuss what relevancy and meaning it possibly has for us today in the 21st century.
"Glimpses Into Ezekiel" available on Amazon in paperback or Kindle with ISBN: 978-1516803002
~
You can purchase this book at Amazon USA on this link:
You can purchase this book at Amazon UK on this link:
Click or tap on the appropriate link below to subscribe, share or download our iPhone App!