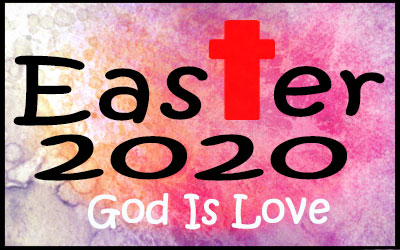 Easter 2020 - God is Love
Day 13. Jesus' I AM – Altogether now
"For even the Son of Man did not come to be served, but to serve, and to give his life as a ransom for many." Mark 10:45
So there we have it – Jesus the I AM of history. We saw together how Jesus loudly proclaiming he was the living bread; the light of the world; the good shepherd and the gate; the resurrection and the life; the way, the truth, and the life; and finally declaring He and He alone was the true vine! Jesus as the long waited for Messiah or Saviour, was the reality , whereas Israel was the symbol. All the things the nation of Israel was to be but failed to do so, is embodied in Jesus Christ. All the I AM statements reflect this.
All through this, Jesus knew what his mission on earth was. He knew that the cross and his being raised from the dead was his ultimate mission to defeat sin and death. If it were to be any other way, do you not think God would have done it another way? The cross and the resurrection show that Jesus' exclusive proclamations are true, because Jesus life and actions support Jesus' claims. No other religion, apart from Christianity, offers a guarantee of salvation and everlasting life based on faith and grace alone. This is because the offer is all down to God's salvation work on the cross and not due to the efforts of humans to appease a God or gods.
Jesus – the "I AM…" Jesus never said "I am a true vine; a way, a truth and a life." Nor did He say "I am a resurrection and a life." Jesus never said "I am a door to life", just as He did not say "I am a shepherd, a door, a light or a bread of life." No! Jesus is the only way, the only truth and the only life. Jesus is the one great shepherd and the only door to life. Jesus is the only light of the world and the only true bread of life.
Jesus the I AM of history. What are you going to do with this Jesus? What options are open to you?
Click or tap on the appropriate link below to subscribe, share or download our iPhone App!