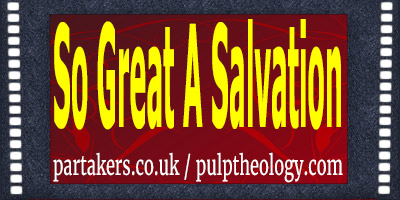 So Great A Salvation
 
Part 8 - Perseverance
Perseverance is the continuous operation of the Holy Spirit in the believer, by which the work of divine grace that is begun in the heart is continued and brought to completion. We read that:
My sheep listen to my voice; I know them … and they shall never perish; no one will snatch them out of my hand… no one can snatch them out of my Father's hand. They will never perish; no-one can snatch them out of my hand (John 10:27-29)
"Very truly I tell you, whoever hears my word and believes him who sent me has eternal life and will not be judged but has crossed over from death to life (John 5:24)
He who began a good work in you, will carry it on to completion until the day of Christ Jesus(Philippians 1:6)
Shielded by God's power. (1 Peter 1:5)
Nothing can separate us from the love of God in Christ Jesus our Lord (Romans 8:38-39)
The Lord knows those who are His (2 Timothy 2:19)
That you may know that you have eternal life (1 John 5:12-13)
In summary then: eternal life never depends on our feeble grip on Christ, but rather on His firm grip on us.
Next week in this series, we look at the role of Godly Discipline in the life of the Christian Disciple
~
Click or tap on the appropriate link below to subscribe, share or download our iPhone App!