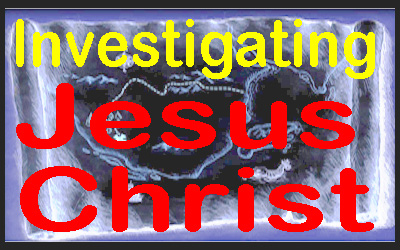 Investigating Jesus
Part 4
Jesus in the Four Gospels
In the New Testament, we have four accounts of the life of Jesus Christ which are Matthew, Mark, Luke and John. These are called Gospels. But what is a Gospel, how are the four accounts different or similar and what were the main points each writer sought to communicate?
Firstly, they are called Gospels, because they gave substance to the Gospel or Good News about Jesus Christ as described by one of his early followers, the man we know as the Apostle Paul (Romans 1:16) We know that during his time on earth Jesus Christ wrote nothing formally. Yet after his ascension, the stories about Him were preserved and passed on by his disciples and other Christian teachers and evangelists. For the first thirty years or so, these stories were possibly collated and stored together. That would explain the similarity in the four accounts of Jesus' life. They are not an exhaustive biographical detail of all that Jesus did.
Similarly, the Gospels are also not diaries reflecting a daily account of Jesus' life. Rather they are selective accounts of his life, and were probably factual illustrations used by his disciples when preaching about Him. Therefore, they would represent the theology of the disciples, as each story about is Jesus is told. That is why they are trustworthy accounts as well as rooting Jesus' life in first century Judaism and the Greco-Roman world
The first three of the Gospels, Matthew, Mark and Luke are what are called the synoptic Gospels. This is based on their great similarity and possibly use of a common source. Mark was probably the first Gospel written as it is shorter in length than either account written by Matthew or Luke. Mark writes as if Matthew and Luke used the Gospel written by Mark as a guide and elaborated where required. We see this in that Mark wrote none of the great discourses of Matthew (Mark 13 being the exception), such as the Sermon on the Mount. Nor does Mark show the great parables that Luke recorded. Surely if Mark had used either the accounts of Matthew or Luke, he would have used those two examples. Matthew is closer in similarity to Mark than Luke. Luke does share large portions of Mark and quite often verbatim, and with a greater use of the Greek language.
The Gospel of John on the other hand, while still telling about Jesus' ministry, has vastly different story content. Whereas in the synoptic Gospels Jesus talks about the Kingdom of God frequently, in the Gospel of John, Jesus talks about Himself much more often, as in the seven I AM statements which we will look at in Chapters 9 and 10. For this reason, the Gospel of John was probably written much later than Matthew, Mark and Luke.
~
Click or tap on the appropriate link below to subscribe, share or download our iPhone App!