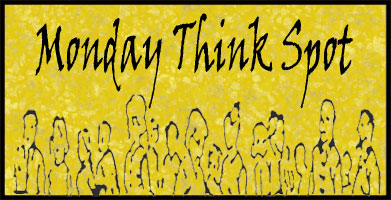 Think Spot - 30th April 2018
Luke 2:42-52 - Every year Jesus' parents went to Jerusalem for the Festival of the Passover. When he was twelve years old, they went up to the festival, according to the custom. After the festival was over, while his parents were returning home, the boy Jesus stayed behind in Jerusalem, but they were unaware of it.

Thinking he was in their company, they travelled on for a day. Then they began looking for him among their relatives and friends. When they did not find him, they went back to Jerusalem to look for him. After three days they found him in the temple courts, sitting among the teachers, listening to them and asking them questions. ; Everyone who heard him was amazed at his understanding and his answers.When his parents saw him, they were astonished.

His mother said to him, "Son, why have you treated us like this? Your father and I have been anxiously searching for you." "Why were you searching for me?" he asked.

"Didn't you know I had to be in my Father's house?" But they did not understand what he was saying to them. Then he went down to Nazareth with them and was obedient to them. But his mother treasured all these things in her heart. And Jesus grew in wisdom and stature, and in favour with God and man.

Matthew 13:53-55 - When Jesus had finished these parables, he moved on from there. Coming to his hometown, he began teaching the people in their synagogue, and they were amazed. "Where did this man get this wisdom and these miraculous powers?" they asked.  "Isn't this the carpenter's son? Isn't his mother's name Mary, and aren't his brothers James, Joseph, Simon and Judas?
Wise
Jesus is the ultimate wise man! As we read the Gospels, we see that when Jesus spoke words, people were amazed! They were astounded that He spoke with wisdom, elegance and yet with authority. They had never heard anyone speak like He did - with both grace and authority.
The same is true today, if we are listening. That is why we read the Bible to find out what He would say to us. That is why we seek to hear Him speak to us and why we speak to Him. That is why preaching is to be seen as an act of worship - by both the preacher and the listener! Jesus' wisdom meaning I can ask Him for advice and seek His imagination to solve problems!
As you go into this week ask Jesus to help you, guide and speak to you through the Bible, regardless of what situation you face! Jesus, Son of God, the ultimate wise man!
Prayer
A prayer to help you into this new week. Father, we thank you for your Son, Jesus Christ! We thank you for the Bible! We thank you for godly men and women who preach and teach this wisdom of Jesus to us, explaining and exploring how we can put this wisdom into practise! May the Holy Spirit within each believer, rebuke and counsel, as that believer seeks to live a life worthy of Jesus Christ. Amen!
You can now purchase books written by me and others! Please do click here to visit our Amazon site!
Click on the appropriate link below to subscribe, share or download our iPhone App!



<