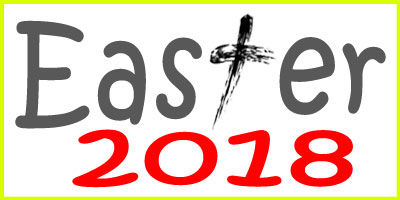 Easter 2018
Part 6: Why the Cross of Jesus?
All human beings, in their natural state, are born sinners and have rebelled against God (Romans 3:23). However, because of Jesus' death on the cross God offers forgiveness (Ephesians 1:7), Peace (Romans 5:1) and reconciliation with Himself, so that we are no longer His enemies (2 Corinthians 5:19).

Through the cross of Jesus Christ, and only through the cross, we are made just before God (Romans 3:24-26), it cleanses us from sin (1 John 1:7) and makes us right before Almighty God (2 Corinthians 5:21). Because of the Cross, we have direct access to God (Ephesians 2:18) and Jesus Christ intercedes for us (Hebrews 2:17-18). Because of Jesus Christ's death on a Roman cross, all those who follow Him have freedom from the power of slavery to sin (Galatians 5:1) and freedom from the power of the devil (Hebrews 2:14). None of the above things are true if we do not follow Jesus.

Listen to, or download the mp3 file using the link before to hear more on this subject.
Discover for yoruself 
Why Jesus went to the cross

How it was a solution to the problem of human sin and suffering

Defeating satan and death

How we should respond to His death.
~
Click or tap on the appropriate link below to subscribe, share or download our iPhone App!