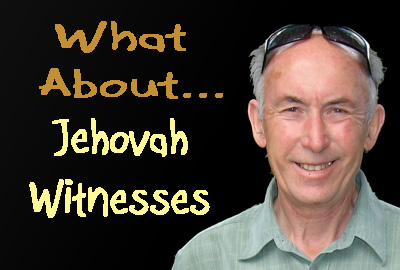 3 - Organization and God's Word
At the end of our last study we looked at their own assessment of what a Godly organisation should be like in character and were they true in saying they adhere closely to God's Word. I couldn't agree more that they should but do they in fact keep strictly to God's Word? This we shall look at more closely in a moment but first
Here is an outline of how they operate as an organisation:
They stress:
(a) Door to door visitation They say that they are the only organisation going from house to house. This is not true as many churches do a great deal of outreach and meet people where they are. We recognise them at our front door as they give themselves away by their dress and manner.
Never do they start with the line "we are Jehovah Witnesses."
Why do they go from house to house? To present the good news of the gospel? Wow!! if it were true. Or is it out of fear of displeasing their organisation if they fail to do so?
What Good News do they bring to the householder? Its all about their own organisation and offering a Book study group to join. Note a book study not a Bible study. Again we do not see them going directly to the Bible and certainly not the NIV or New King James Versions not even the King James Authorised Version but their very own version which they have manufactured HAVING REMOVED OR ADDED TO PARTS OF THE BIBLE THEY ARE IN DISAGREEMENT WITH.
They say categorically "No one is allowed to criticise the hierarchy of the movement. " I quote " We should meekly go along with the Lord's theocratic organisation"(The Watchtower November 15th 1981 page 80.)..."What is your attitude towards directives from the faithful and discreet slave? Loyalty should move you to be ready to obey." (Watchtower Dec. 1st 1981)
One ex Jehovah Witness referring to her previous experience in the movement said...."I hated every minute, every hour of being a witness. But I thought it was the only way to survive Armageddon and live on Paradise earth. Many times over the years I would have left if someone had only presented the gospel to me." I have heard a good number of similar testimonies from those who feared the movement which had such a strong hold over them. This tight reign prevents them leaving the organisation especially if their close friends are going to ostracise them which the organisation insist they do..
(b) What kind of meetings do they hold each week? Usually it amounts to five meetings per week. Four of them require audience participation. Included also is a study of their weekly journal 'The Watchtower' by means of questions and answers. Prior to the study a public talk is given from its outline. On another evening the ministry school trains every Jehovah Witness how to present their beliefs and overcome objections. Witnesses are expected to prove their faithfulness by attending all the meetings. Each witness must spend a minimum of ten hours per month in door to door visitation. Others known as auxiliary and special pioneers spend many more hours knocking on doors.
Last year I attended by invitation their annual communion service. Yes only once a year. We were told the elements were only to be taken by those who were 'born again' Who are the born again in their eyes? Did the speaker point us to Nicodemus in John 3:3; no way, not a mention of it! .Instead we were pointed to a couple of references in the book of Revelation including one in chapter 14.
Here there is reference to great multitudes of people worshipping and praising God in Heaven. Included in that number, ( for it goes on to stress there are so many people there they cannot be numbered from all nations on the earth) is the number 144000. We were told by the presiding elder that the 144000 were the particular born again Jehovah Witnesses who were pure, undefiled, ransomed, redeemed and follow the Lamb closely.
So there were two classes we were told. One to inherit paradise and all other Jehovah Witnesses would have the lesser blessing in eternity of spending it on the renewed earth. So only Jehovah Witnesses who considered themselves in the 144000 group would be allowed to participate and take the bread and wine that night. I had been invited by an Witness elder who was sitting next to me . As the dry crackers and wine were being passed from hand to hand I quickly asked the elder whether I was expected to eat it straight away or wait till all were served. He replied "no its only for the "Born Again" I replied quickly as the elements drew closer to where we were sitting "But I am born again"
As it happened I never got much of a chance to take either as they were passed swiftly along and it appeared that no one was participating! Afterwards I asked my friend "Did he know of any "born again Jehovah Witnesses" in the congregation (there were 200 people there) He said "no not personally but I think there are one or two living in the county." I think the Holy Spirit was grieved that night at a meeting which should have been filled with the knowledge of Jesus Christ and His redeeming work on Calvary and his words to his disciples "take eat, do this in remembrance of Me"
However, He was virtually cut out of the meeting which he brought into being. I was told it was left to the individual to take but with such a warning, who would? To be born again was for the elite Jehovah Witness. My Bible tells me it is for sinners, repentant sinners who trust only in Jesus righteousness and His shed blood to redeem an deliver us from our sins. And through that sacrifice we can be cleansed from all sin and be welcomed into heaven (all of us who repent and believe)1 Corinthians 11:23-26: Romans 3:23; 5:1-3: and verses 8ff
When I began this third study I referred to the Jehovah Witness principles which they said they said they adhered to. One was "We recognise Jesus' vital role in Jehovah's purpose." I am certain they do not. Jesus Christ is central in the Christian faith and in my next study we shall focus on what place Jehovah Witnesses teaching does give to Jesus Christ and contrast it with what the Bible clearly teaches and I can assure you there is a vast difference and one that greatly affects the true way to God through The Lord Jesus Christ, We shall see Who He truly is and what He did achieve at Calvary for all who will believe on Him.
Click or tap on the appropriate link below to subscribe, share or download our iPhone App!